DRAMA; 1hr 53min (Spanish with subtitles)
STARRING: Antonio Banderas, Asier Etxeandia, Penélope Cruz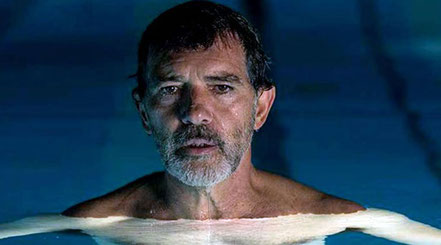 Salvador Mallo (Banderas) is a middle-aged Spanish filmmaker grappling with a malaise of the flesh and the soul. Having reached a physical impasse, he no longer feels strong enough to make movies, even though "Without filming, my life is meaningless." He's called back into action, however, when the Madrid Cinemathèque releases a restored print of his 30-year-old film and requests that Salvador and the picture's estranged star, Alberto Crespo (a wearily flamboyant Etxeandia), be present for a Q&A at the opening.
The two re-unite for a peacemaking chat during which they nonchalantly agree to smoke heroin, of which Alberto is a canny habitual user and to which what-the-hell first-timer Salvador takes a dangerous shine. Their détente is volatile, but the lure of the obliterative brown powder proves an enduring balm for Salvador's smorgasbord of pain. Alone in his fabulous casa, he drifts, stoned, to the landscape of his boyhood.
Never a man to stint on cinematic emotion, writer-director Pedro Almodóvar (Volver, The Skin I Live In) has poured himself into an intimate, unflashy, semi-autobiographical accounting of the ageing process. Portrayed with quiet melancholy by the filmmaker's long-time friend and workmate Banderas, Salvador is shadowed with sorrow: for his late mother (Cruz as a feisty young woman; Julieta Serrano, equally resolute as she stares down death), for a lover from his past (Leonardo Sbaraglia) with whom he reunites one significant night to reminisce, and for the elemental awakenings of his childhood. But those shadows are outshone by his affection for everything that has shaped him, and by the resolve that will compel him to keep crafting his wholehearted movies. Through taking the measure of his history, the observer has become the observed, making an art form of himself.