SCI-FI ACTION; 2hr 8min
STARRING: Linda Hamilton, Arnold Schwarzenegger, Mackenzie Davis, Natalia Reyes, Gabriel Luna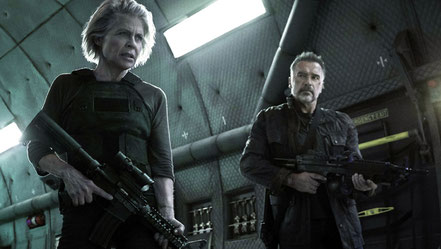 T for two: Hamilton and Himself
After a 28-year hiatus, badass Sarah Connor (Hamilton) and the T-800 Terminator (Schwarzenegger, natch) are back in action, and you'd better believe that age has not wearied them. Although classified by creator-director turned producer James Cameron as the sequel to 1984's The Terminator and 1991's Terminator 2: Judgment Day, Dark Fate is technically the sixth entry in the series, with the others existing in a parallel cinema and TV series timeframe. Confused? Hold tight for the plot.
It begins on a Guatemalan beach in 1998, where Sarah's teenage son, John (Jude Collie), is gunned down by the T-800. Twenty-two years later, Mexico City factory worker Daniella "Dani" Ramos (Reyes) is targeted by a new, improved, shape-shifting Terminator (Luna as Rev-9) with a molten-metal core and a terrible disposition.
Fortunately for Dani, "augmented" human Grace (Davis) has been despatched from the year 2042 to protect her. Her father and brother aren't nearly so lucky, and were it not for a stone-cool Ms Connor temporarily putting paid to the Rev-9, neither would Dani or Grace have been. Grace's fight-flight sequences are supercharged with catlike athletics, but she is only human. So, too, is Sarah, although walled behind an exoskeleton of rage and grief.
Necessity being the mother of invention, the three women throw in their lot together, travelling to Texas with the Rev-9 in what would be hot pursuit if it weren't so expressionless. Their destination is the cottage of the domesticated T-800, aka Carl, who now runs a drapery business ("We won't leave you hanging!") and is raising a stepson with his unsuspecting human wife (Alicia Borrachero). (According to Carl, their relationship isn't physical. Just as well, since he apparently weighs 400 pounds.) The plan is to nuke the Rev-9, if Sarah doesn't nuke Carl first. Plus ça change…
Any franchise entry this freighted with history has a lot to live up to, but Deadpool director Tim Miller still delivers the fanciful goods. Velocity, ferocity, physicality, noble sentiments and a shedload of effects are all accounted for, along of course with the unfailing Linda and Arnie Show. Time can be unkind—to movie stars and cyborg slayers alike. But some double acts never get old.