DRAMA; 1hr 58min
STARRING: Renée Zellweger, Finn Wittrock, Rufus Sewell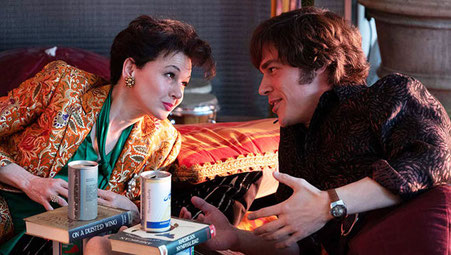 Promises, promises: Zellweger and Wittrock
After a six-year hiatus from acting, Renée Zellweger is back with a calibrated bang, playing her heart out as a woman for whom pressing Pause was always an impossible luxury. The stageplay–based Judy dips tellingly in and out of singer and actress Judy Garland's Hollywood studio-owned excuse for a childhood (with the young, frustrated Judy feelingly played by Darci Shaw). But director Rupert Goold's chief, workmanlike concern is with the last year of the star's life.
In 1968, Zellweger's 46-year-old Miss Garland is financially strapped and as twitchy as a cat on hot coals. In London for a sold-out season at the Talk of the Town theatre-restaurant, the pill-popping tippler is a burnout clinging to luminous shreds of grace. As an otherwise pedestrian set-up's sole raison d'être, Zellweger has the wreckage of decades down to art-as-science. It's as if she slipped into a second skin: Judy's wide, wounded eyes, her confiding smile and her etched-in, stoop-shouldered weariness are all, urgently there, along, crucially, with a game re-creation of her bravura singing voice. When the actress first performs onstage, some 42 minutes in, her vocals have their own soul-baring beauty.
The real Judy was a woman for whom there were no half measures. When firing, she was incandescent. But when out of it on pills and booze, her show was a shambles. "I'm only Judy Garland for an hour a night," Zellweger's Judy says, in a futile protest at the loneliness of constant expectations. For the other 23, she's in search of a Happily Ever After: with the young son and daughter living Stateside with her ex and their father, Sidney Luft (Sewell), with her fifth and final husband, 35-year-old whirlwind charmer, Mickey Deans (Wittrock), and with a healthy sense of self. The knowledge that her reach will forever elude her grasp is a base note of sorrow that reverberates decades later.