COMIC DRAMA; 1hr 50min
STARRING: Constance Wu, Jennifer Lopez, Keke Palmer, Lili Reinhart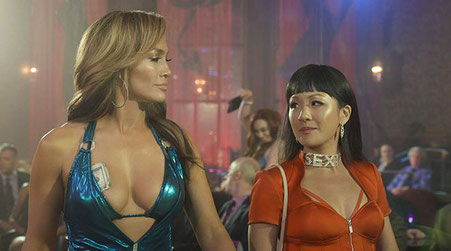 Work it! From left, Lopez and Wu
The stripping game is money-hungry, and how, in writer-director Lorene Scafaria's thinking cheesecake's escapade, but that doesn't mean a girl can't clean up and have a little dirty fun while she's at it. In 2007, Ramona and Destiny are two of those girls, working for the man in a New York strip club. Ramona (Lopez) is a wet-dream pole dancer, Destiny (Wu) is her doe-eyed protégé, and together there's no Wall Street target whose bullseye they can't hit. Then comes the 2008 crash, wiping out the Street and taking the sweet-treats industry with it.
"We gotta start thinking like these Wall Street guys," Ramona, no dummy and a Class-A fox, decides. With sisters-in-arms Destiny, Mercedes (Palmer) and Annabelle (Reinhart), she sets up her own show, drugging gullible pick-ups while plying them with booze, then fleecing their credit cards for a fortune.
Given that Scafaria's screenplay is based on Jessica Pressler's 2015 New York magazine article, its scam squad's crash is a foregone conclusion. Chalk it up to too much hard stuff and too many cooks as Ramona's seamy enterprise expands or to greed run rampant as a recipe for disaster, either way the long arm of the law is a done deal. And that's truly unfortunate—although not in any obvious, morally reprehensible sense. Granted, what the women are up to is all kinds of wrong. Then again, the conning of corporate cowboys isn't exactly an unspeakable crime, and at least these boys have a blast going down. Lopez's sexy, sassy den mother could charm the scales off a cobra, while her girls, for whom constructive choices are thin on the ground, are just using what they have to take ownership of their lives. Their methods are hardly squeaky clean, but neither is the world in which they operate. And isn't it a fine thing, after all, when the commodity becomes the commoditiser?