COMIC DRAMA; 1hr 38min (English and Mandarin with subtitles)
STARRING: Awkwafina, Shuzhen Zhao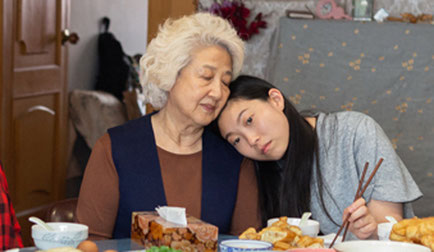 Grandmotherly love: Zhao (left) and Awkwafina
Sometimes it is kosher to tell a lie, especially when that lie is lily-white and a matter of life and death. That's the premise of writer-director Lulu Wang's affectionate story of her own family's ends and means: as an opening credit reveals, The Farewell is "Based On An Actual Lie."
To pull off that Actual Lie, the film's onscreen family has gathered from far and wide in the city of Changchun on the pretext of celebrating an ersatz wedding. In truth, their beloved grandmother, or Nai Nai, has lung cancer and months to live, which nobody plans to tell her. Perception can be dangerously powerful, after all, and if Nai Nai (Zhao) doesn't need to know, then why should she, the Chinese reasoning goes, when it's the duty of loved ones to shoulder such burdens for as long as they possibly can? The wedding, then, is a chance to secretly bid Nai Nai goodbye.
For aspiring writer Billi (Crazy Rich Asians' Awkwafina, slouching moodily), who was raised by her parents (Diana Lin and Tzi Ma) in New York and is thereby caught between two cultures, this plan of inaction is morally sketchy at best. But her clan is insistent, and besides, Billi's treasured Nai Nai is such a bracing, generous, motherly doll that to hurt her is unthinkable. So the gang's all home and the food looks gorgeous, but togetherness in extremis is no cakewalk. How could it be with the weight of the charade?
Despite her hot-button topic, Wang is no hand-wringer. As the rellos go awkwardly about their protective business, she segues between compassionate and droll, easing the audience into her world with zero fanfare. The strategy pays off in spades: to see Nai Nai enveloped in the equivalent of a giant group hug is to bear witness to a selfless act of grace.