THRILLER; 1hr 38min
STARRING: Noomi Rapace, Yvonne Strahovski, Luke Evans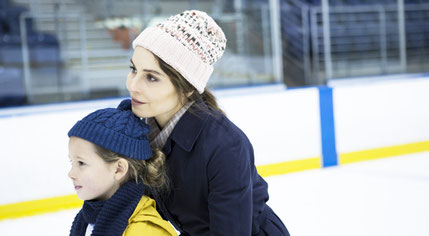 Thin ice: Rapace (right) and Whiteley
Back in 2009 as the original Lisbeth Solander, she of the epic dragon tattoo, Swedish actress Noomi Rapace could have bored a hole through cinema screens with her laser gaze. She's a softer look these days, less angular and enraged, and sans statement-making ink. But this all-grown Girl has by no means lost her mojo in Strangerland director Kim Farrant's stealthy psychological teaser.
As cosmetics sales assistant Lizzie, Rapace is flayed by the past and tormented by the present. Her baby daughter died seven years ago in a hospital fire, taking the lifeblood of her parents with her. Lizzie and ex-husband Mike (Luke Evans) have custody issues with their resentful young son, Thomas (Finn Little). She's popping pills to glue her brittle act together, with sketchy results. And when she spots a little girl (Annika Whiteley as Lola) who strikingly resembles the baby for whom she grieves, Lizzie's already frayed restraints begin to snap. Convinced the child is her daughter, she cosies up to her mother, Claire (a snugly sunny Strahovsky), in an attempt to grow close to Lola and thereby do God alone knows what.
This deranged game plan is so doomed that its sole guilty pleasure is the skin-crawling thrall of the pile-up Blind Freddy could see coming. Whether that thrall proves sufficient ballast for the film—based on the 2008 French thriller L'Empreinte de l'Ange, which itself was apparently based on real events—is definitely up for debate. But whichever way you slice and dice her work, Farrant is a divining rod for undercurrents, and she has a tremendous asset in Rapace, whose anguished vibrations throw an electric charge through otherwise sluggish waters. As a stalking drama, this Angel is long on atmos and short on legs not boosted any by its cred-stretching reveal. Rapace deserves a stronger framework in which to stretch—but that isn't about to hold her back.