DRAMA; 2hr 39min
STARRING: Mel Gibson, Vince Vaughn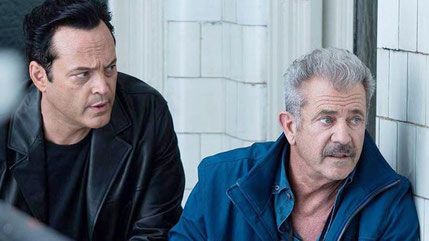 High stake: from left, Vaughn and Gibson
Burned by a bystander's media-leaked recording of a rough bust, Bulwark City detectives Brett Ridgeman (Gibson) and Anthony Lurasetti (Vaughn) are suspended from duty for six weeks. They react to the news with the jaundiced resignation with which they react to everything—life on the mean streets being the sustained drag, so to speak, that it is—but the loss of pay is a major pain. Brett's MS-afflicted wife (Laurie Holden) and their daughter (Jordyn Ashley Olson) are fed up with the family's unsafe neighbourhood. Anthony doubts he can adequately provide long-term for his girlfriend (Tattiawna Jones).
When Brett, who after years of doing it tough is so bitter he can barely see straight, proposes that he and his partner become partners-in-crime by ambushing and robbing a dealer, Anthony correctly informs him he's crazy. This is such a terrible idea the only issue it raises is how horrendously wrong everything is all but guaranteed to go, especially given the fickleness of best-laid, brazen plans. Meanwhile, over on the dark side, Henry Johns (Tory Kittles), a fundamentally caring soul fresh out of prison, is sliding back into his unsavoury criminal ways…
Writer-director S. Craig Zahler, whose brilliantly filthy Brawl in Cell Block 99 also starred a toughed-up Vaughn, does a mean slow dance with nitty-gritty here. Flashy stunts don't enter the arena: as the fallen lawmen watch and prey, Zahler's plotting goes step by step, leaving ample space for his characters to dig into its twists and tangents. The strategy pays major dividends, with its creeping suspense, its textured performances across the board and a showdown excruciating in the depths to which its cold-blooded details are able and willing to go.