DRAMA; 1hr 41min
STARRING: Judi Dench, Sophie Cookson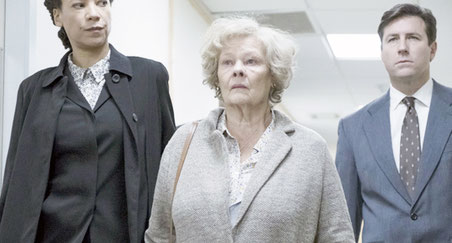 Joan Stanley's story of means and ends opens in 2000 rural Britain, where an elderly Joan (Dench) is pottering in peace—until she's summarily arrested and charged by MI5 with treason, an accusation she vehemently denies. Her interrogation triggers a rush of memories for Joan of 1938 Cambridge, where, while studying physics, the pretty young bluestocking (a deceptively demure Cookson) falls for Byronic Russian Communist agitator Leo Galich (Tom Hughes).
A weakness for trailblazing men doesn't necessarily serve anyone well: after graduation, Joan's first job is as a research assistant in the top-secret construction of the atom bomb whose detonation in Hiroshima and Nagasaki leaves her in turmoil. Her zealous, married boss, Max (Stephen Campbell Moore), becomes her second defining love, but Leo and his machinations haven't finished with her yet. Working with his slippery cousin Sonya (Tereza Srbova), Joan leaks crucial information to Russia in a leap of faith that will haunt her decades later.
Director Trevor Nunn and screenwriter Lindsay Shapero's adaptation of Jennie Rooney's 2013 novel is based on the behaviourally tricky, real-life story of Melita Norwood, which was surely more edge-of-seat exciting than their sermonising treatment of it. "I was fighting for the living," Dench's Joan pleads with her judgmental barrister son, Nick (Ben Miles), her reasoning being that if both sides had the same weaponry, another war would most probably be averted. And so it was, for all the good that did her. Traitor to her country, crusading pacifist or a contradictory mix of both? Lines in shifting sands can be perilously fine, and as sympathetic as Dame Judith is, this politely drawn version is impossible to call.