ROMANTIC COMEDY; 1hr 5min
STARRING: Charlize Theron, Seth Rogen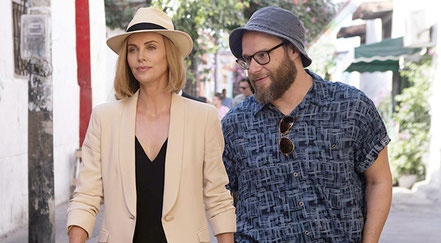 Apple meets orange: Theron and Rogen
US secretary of state Charlotte Field (Theron) and windmill-tilting Brooklyn newspaper journalist Fred Flarsky (Rogen) are multiple poles apart. She's a shiny, blonde thoroughbred while he's a Shetland pony: chunky and lovable but decidedly minor league. How crazy-convenient, then, that the vision and the Shetland have something of a history, she having been his babysitter when she was 16 and he was 13 (which is way too old for a boy to be babied—and the less said about how that arrangement panned out, the better).
Charlotte, however, has fond memories of Fred, plus she gets his wisecracks and his combative writing. And with a 2020 presidential run looming and a Global Rehabilitation Initiative tour on the immediate agenda, she's in the market for a humanising speechwriter. Since Fred quit his job and has nothing to do but sink beers with his bestie (O'Shea Jackson Jr), off he and Charlotte hop on a multi-country campaign trail. She's creamy ease all the way, he's a bolshie square peg, Rogen-style, and love is in the rarefied air, dished up with crowd-pleasing laughs and spoonfuls of sugar by Snatched director Jonathan Levine.
If the politics-lite are fun, watching Charlotte fall for Fred and get messy on molly is next-level nonsense (and a golden opportunity for Theron to cut loose) that nonetheless raises questions of integrity and identity.
Can racehorse and pony weather the pressure? The suspicion that they can't underpins acts two and three, although there's never any need to dive too deep. Not only do the two stars align, but in the glowy romcom universe, love, love, love—no matter how off the charts unlikely—has the reassuring habit of romping home with the show.