HORROR; 1hr 56min
STARRING: Lupita Nyong'o, Winston Duke, Shahadi Wright Joseph, Evan Alex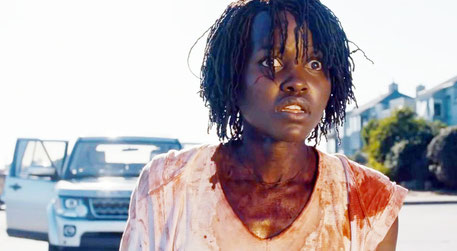 Writer-director-producer Jordan Peele is barely getting started when he turns a 1986 amusement-park outing into a skin-crawling teaser in the opening scene of his latest frightener, Us. The horror-meister's follow-up to 2017's insanely scathing and great Get Out percolates with quiet menace, as years after the fun fair that wasn't, the traumatised little girl from 1986 (Nyong'o, killing it as Adelaide Wilson) revisits Santa Cruz for a vacation with her husband, Gabe (Duke), and their children, Zora and Jason (Wright Joseph and Alex).
Adelaide is a loving and super-protective wife and mother, if somewhat emotionally constrained. Her reserve makes sense when she confides to the notably more relaxed and jovial Duke that she's on edge after never having recovered from a petrifying encounter with her doppelganger in a hall of mirrors on that decisive 1986 night. "It feels like there's this black cloud hanging over me," she says. 
That has to be the understatement of the hour: when an identical family descends on the property by night, armed with scissors and deadly intent, the Wilsons are forced into a war with their bestial other selves.
While Peele's knowledge of horror motifs lurks in the crannies of every considered detail, his creepy premise is no mere generic shrieker. As a filmmaker, he has big statements to make about social schisms and the consequent demons within, and he makes them with a diabolical and propulsive grace all his own. Us is physically violent and spine-chilling, not least in the epic double duty of a cast whose characters are locked in combat with their fiendish twins. But its keenest and most lingering impact lies somewhere between the lines of comprehension that Peele so cleverly chooses to blur.