DRAMA; 2hr 13min (Spanish with subtitles)
STARRING: Penélope Cruz, Javier Bardem, Ricardo Darín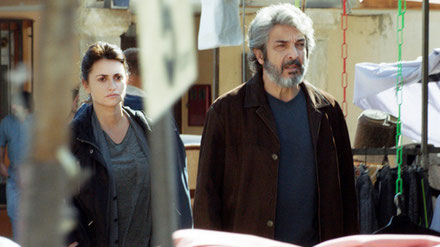 Everybody hurts: Cruz and Darín
The family gathering, that creaky nest of vipers, proves patchy ground for A Separation writer-director Asghar Farhadi and his gamely fired-up cast. In her opening scenes, Cruz, especially, is a luscious powerhouse as wife and mother Laura, who returns to her Spanish town from her home base in Buenos Aires to help celebrate her sister's exuberant wedding.
When the reception's sweetness and light are literally and figuratively extinguished by a kidnapping during a blackout, the extended family sinks into self-castigating disarray. The chief issue off the bat is, of course, who the hell dunit. That's followed in short order by the dilemma of raising the €300,000 ransom. It's here, along with the arrival of Laura's ineffectual wodge of a husband, Alejandro (Darín), that the earlier, deftly shot zip slows to the trudge of a depressive waiting game whose picking apart of murky personal and financial secrets frankly isn't that fascinating. (Who gives a flying if everybody knows? Not this little black duck!) The lead actors are all-in nonetheless: Cruz and Darin as emotionally parched parents and Bardem as ebullient winemaker and Laura's former lover, Paco, give their punishing reckoning everything they've got. But dedication can only take everyone so far when all they're essentially asked to give is more and more of the torrid same.
In 2011's A Separation, Farhadi sliced through class structures and subjective perception with a surgeon's precision that's lost in translation here. He's far too accomplished to ever drop the ball: the show stays its downhill course even as its Deep and Meaningful marathons feel progressively like soap on a hangman's rope. Only in the final minutes is there a suggestion of the impact the Sturm und Drang could have had.