DRAMA; 1hr 50min (English and French with subtitles)
STARRING: Willem Dafoe, Rupert Friend, Oscar Isaac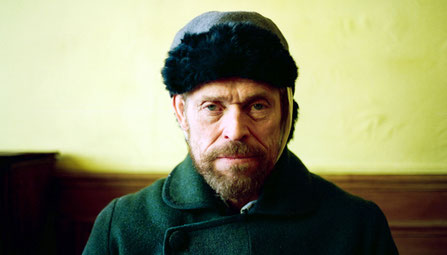 Portrait of the artist: Dafoe
Willem Dafoe, so memorably attuned to downsides as an harassed motel manager in 2016's The Florida Project, now channels his weathered empathy into the tormented spirit of Dutch Post-Impressionist artist Vincent Willem van Gogh. At first glance, the two men couldn't be more different, yet Dafoe's Vincent is mightily harassed as well—by the drive to create that fires all artists, by an essential loneliness no human contact can assuage, by a destabilising lack of appreciation for his pioneering work and, finally, drastically, by his ravaged mind.
"I don't know what I'm capable of," he laments to his devoted brother, Theo (Friend), towards the end of his life in 1890. What he was ultimately capable of, as history came to realise, was a unique fusion of darkness with light, his thickly brushworked paintings—"more like sculpture," as confrère Paul Gauguin (Isaac) reprovingly points out—cries of joy and cries for help.
While not physically dissimilar to his artist, at 63, Dafoe is 26 years older, and his French accent is shaky. Those quibbles aside, director Julian Schnabel (The Diving Bell and the Butterfly) has an actor of enormous compassion in the star of his show and an idyllic asset in the countryside of Arles, Bouche-du-Rhône and Auvers-sur-Oise, where van Gogh spent his final years, and whose serenity is untouched by time. Schnabel's patient deconstruction of Vincent's turbulent soul takes the more recent view that he did not, in fact, fatally shoot himself. But regardless of how he died, it's impossible not to wonder whether Vincent, so poorly served by medical science back then, might have been supported by it today, even while guiltily suspecting that the greatness of his art is the legacy of his pain.