DRAMA; 2hr
STARRING: Felicity Jones, Armie Hammer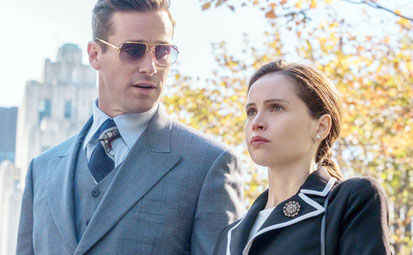 Class act: Hammer and Jones
Boys' club is the term that leaps to mind as young Ruth Bader Ginsburg (Jones) makes her way into a Harvard Law School lecture theatre amid a monochrome sea of self-satisfied male suits. Today, Ms Ginsburg is a venerated US Supreme Court Justice. Back then, in 1956, as director Mimi Leder tells it, as one of a handful of not entirely welcome women who comprised the sixth female intake of the Law School's student body, she was a 23-year-old anomaly.
Ruth is significantly smarter than both the average alpha bear and most of her supercilious peers. But she's about to be saddled with a heavy additional load when her husband, fellow law student Martin (Hammer), is diagnosed with testicular cancer. Being a first-class coper, she takes it upon herself to juggle his courses with her own, in addition to caring for their baby daughter. Of course she does, and talk about a multitasking whammy.
Given that the expansive screenplay is written by RBG's nephew Daniel Stiepleman, and bearing in mind Justice Ginsburg's general, enduring awesomeness, Leder's tribute is practically a manifesto. And so it is that although quashed and obstructed by sexism right and left, yea and verily, RBG remains unbowed, fronting the US Supreme Court in 1975 to successfully argue (for a man!) against a tax law that exemplified a century of gender discrimination.
Impressed, much? A fervent Jones and supportive Hammer work hard to get you there, with spirited support from Justin Theroux and Kathy Bates as fellow legal eagles. The worthiness of their cause and the integrity of their intent are as beyond reproach as you'd assume they would be, even for those underwhelmed by the finer points of federal law (of which, lame spoiler, there are a lot). That said, such a scrupulous approach can't help but work equally hard against any deeper insights. As an assiduous procedural, Sex does due diligence. But the inner world of its shining light? The jury is still out.