DRAMA; 1hr 53min
STARRING: Hugh Jackman, Vera Farmiga, J.K. Simmons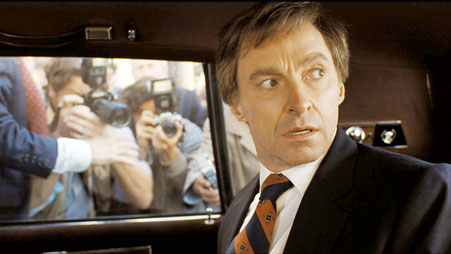 In 1988, amid a flurry of heady expectations, 46-year-old US Democratic presidential candidate Gary Hart (Jackman) is on top of his political world. The Colorado senator is conveniently handsome, briskly persuasive on the hustings and a family man, married for 30 years to poised (and, it emerges, justifiably pained) Lee (Farmiga). He even manages to rock a set of suspenders while coolly hurling an axe into a bullseye. This is a golden boy whom nobody can tarnish. Until he does the job himself.
Juno director Jason Reitman's fly-on-wall retelling of Hart's rise and fall flits here, there and everywhere through his three-week presidential campaign trail while significantly touching nowhere. It dips into strategic campaign meetings, overseen by zealous campaign manager Bill Dixon (Simmons). It hops onto the official plane, eavesdrops on the press pack and scopes out gung-ho rallies before zeroing in on the two Miami Herald reporters (Steve Zissis and Bill Burr) who break the headline news of Hart's alleged affair with model Donna Rice (Sara Paxton).
Public disgrace doesn't come much grubbier, although that's not how Hart sees it, with his furious denials and arrogantly misplaced assumption of the right to privacy. That he remains an enigma, buffed for staged encounters and sound bites yet essentially unreachable, is both frustrating and unfortunately apt, since powerful men who abuse their position are never open books. Jackman's role is therefore primarily to suggest, which he does with the clipped, appealing energy that also defines Reitman's treatment. The Front Runner breaks no earth-shattering ground, yet its takeaway is still one for the ages. Even more concerning than how close Gary Hart came to leadership is his blinkered refusal to address what he might have done wrong.