DRAMA; 1hr 43min
STARRING: Julia Roberts, Lucas Hedges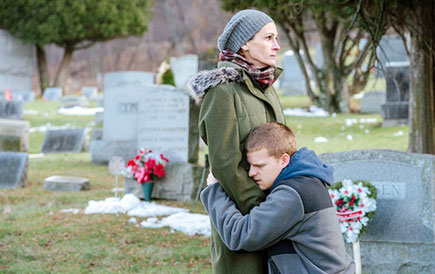 No words: Roberts and Hedges
Addiction is a cul-de-sac around which victims circle, endlessly retelling the same sad tales. Its sneaky reach taints everyone it touches in a drama from writer-director Peter Hedges (Pieces of April) inspired by personal experience. Ben Is Back is a grabber from the opening scenes, in which 19-year-old drug abuser Ben Burns (Manchester by the Sea's Hedges, who is also the filmmaker's son) unsettles his blended family by showing up on the doorstep of their tastefully decked-out New York State home on Christmas Eve, when he should by rights still have been in rehab.
Ben's fiercely protective mother, Holly (Roberts), and his much younger half brother and sister (Jakari Fraser and Mia Fowler) are ecstatic to see him. His sister Ivy (Kathryn Newton) and stepfather, Neal (Courtney B. Vance), are markedly less so, and God knows, they have every sane reason: clean for a precarious 77 days, Ben is haunted by how low he allowed himself to sink and seems to be barely hanging in. Watching him squirm is difficult. Witnessing the effect his fractured psyche is having on Holly, whose patent desperation to believe in her son is nonetheless shot through with fear, is a baptism of fire. Meanwhile, the Christmas rituals roll along, their uplifting cheer at pointed variance with a wintry sense of menace.
If parenting is essentially about learning to let go, then parenting an addict is a master class in helplessness. While Holly grapples with the cruelty of that over one long, cold night, Ben, too, is staring down the hungry ghosts of an omnipresent past that is still malevolently alive. Their train-wreck reckoning is a same old story, and about as much fun as it sounds. But with Roberts bringing her searing A game to Holly's mushrooming anguish, and the outwardly clean-cut Hedges just unreadable enough to present as a real, self-sabotaging worry, it feels remiss to turn away.