COMIC DRAMA; 1hr 58min
STARRING: Mark Wahlberg, Rose Byrne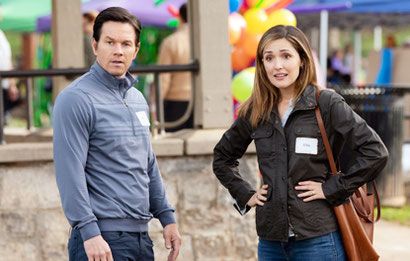 Meet the parents: Wahlberg and Byrne
Director and co-writer Sean Anders is filming from the heart with the fostering snafus of Instant Family: the learning curve climbed by wannabe parents Pete and Ellie Wagner (Wahlberg and Byrne) is inspired by his own experiences as an adoptive father. As such, that curve is a fair bit steeper than fans of Anders' wicky-wacky Daddy's Home might well be expecting. Sure, 15-year-old Lizzie (Isabela Moner) and her younger sibs, Juan and Lita (Gustavo Quiroz and Julianna Gamiz), are button-cute kids and the well-meaning Wagners are cosily middle-class. Yet, despite timely warnings from their old-hand counsellors (Octavia Spencer and Tig Notaro), they're also fathoms out of their depth with the defence mechanisms of foster-system children who wear their burden of desertion like full-body armour.
After an initial "honeymoon" of politeness, Lizzie turns sneering, defiant and remote (sometimes by turns, sometimes all at once) while the little ones are weepy (him) and screamy (her). This leaves the Wagners with the unappealing choice of either barking ineffectual commands or cursing themselves for the tsunami they've unleashed. Even when there seems to be a paradigm shift, as the fragile fam goes from manning its trenches to larking it up with water pistols and roasting marshmallows over a campfire (yes, really), there are still blow-ups and meltdowns ahead.
Daddy's alum Wahlberg and Bridesmaids trouper Byrne weather the outbursts and the crescendos of OTT absurdity with practised comic timing and the open-faced sincerity the delicate subject matter demands. There's a three-hanky ending, but you're unlikely to complain. This time out, everyone involved deserves it.