DRAMA; 2hr 12min
STARRING: Christian Bale, Amy Adams, Steve Carell, Sam Rockwell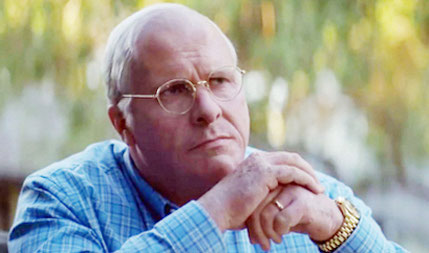 "How," asks the narrator (Jesse Plemons) of The Big Short writer-director Adam McKay's chewy wodge of American modern history, "does a man go on to become who he is?" That man is ultimate quiet achiever Richard Bruce "Dick" Cheney (Bale), who ascended from humble rural beginnings to the Valhalla of US political life, as Vice President to, and strings-puller of, George W. Bush (Rockwell).
All very well, but who is Cheney, really? McKay's penetrative answer criss-crosses five decades with the winking light-footedness and singular insight that are his signatures (a smashing Shakespearean boudoir interlude included). Along with an array of discerning performances, the process chiefly involves the picking apart of the mechanics of power, since to Cheney and his redoubtable wife, Lynne (Adams), power in all its fate-shaping permutations is meat, drink and a jumbo serve of dessert.
Bale's Cheney is diligence personified in the service of the feast. Beavering an impressive path from an internship with a hail-fellow Donald Rumsfeld (Carell), whom he would later summarily dispense with, he rises to five terms in Congress and White House stints as Chief of Staff and Secretary of Defense, followed by a private-sector spell as the CEO of Texas oil giant Halliburton. From there, in 2001, it's up, up and up to the Oval summit, over which a pushover Bush officially presides, but which the deceptively folksy and soft-spoken Cheney relentlessly oversees.
Endlessly persevering, fiercely private and ambitious as all get-out, in his down time, Dick is a consistently doting husband and father. It's a contradiction that does nothing to soften either his stance on the US invasion of Iraq or a calculating intermingling of politics with media and big business—a marriage of convenience that now more than ever defines American political life.
Every cast member nails the vérité game along the rock-strewn way. But it's Bale's chameleonic gift on which the epic show depends, and he is uncanny. Bulked up and remodelled into an astonishing likeness, he becomes not just the man-made prosthetic flesh, but tangibly and repellently present. He's been this transformative way before, of course, most memorably in the fictional hells of American Psycho and The Machinist. But with this skewering measure of an actual man, slippery Dick Cheney may have finally met his match.