COMIC DRAMA; 1hr 46min
STARRING: Melissa McCarthy, Richard E. Grant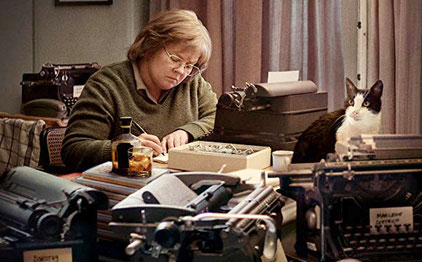 Jersey's girl: McCarthy and Towne the Cat
To all intents, in 1991, 51-year-old Lee Israel (Bridesmaids' McCarthy) is all washed up. With her glory days as a Manhattan celebrity profiler and biographer long behind her, she's broke, jobless and alone, unless you count her cherished cat, Jersey, who is 12 years old and sick. What a crummy downward climb for a literary light who in the 1970s and '80s rubbed shoulders with, and wrote the life stories of, actress Tallulah Bankhead and show-business reporter Dorothy Kilgallen—a drumroll that ended with the tanking of Lee's 1985 biography of Estée Lauder.
Dismissed as old hat by her agent (Jane Curtin), abrasive boozer Lee isn't an easy sell, a fact of which she's unrepentantly aware. She's down, but she belligerently refuses to be out. And when a brainwave born of desperation inspires her to become a forger and seller of literary letters, she goes on to craft an estimated 400 cunningly worded documents, allegedly from such conveniently deceased luminaries as Dorothy Parker, Lillian Hellman, Louise Brooks and Noël Coward.
Resurrecting these idols on the page frees Leefinancially and reignites her sense of creative purpose. She makes a friend, as well, in flamboyant Jack Hock (Withnail and I's Grant, OTT and loving it), a fellow gay lush and fringe dweller, who, when her unsavoury business booms, becomes an iffy co-conspirator.
None of this can last: even the name of the movie gives that game away. Can You Ever Forgive Me was both a line Lee created for Dorothy Parker and the title of her 2008 memoir, on which this deep dive from Diary of a Teenage Girl director Marielle Heller is based. The filmmakers' investment is worth every frame: although no match for the FBI, Lee was a cool, contradictory and endlessly fascinating customer. Her sandpaper façade, contrary heart, scathing wit and piercing, self-sabotaging intelligence find their discordant voice in McCarthy's most compassionate and layered portrayal. With a commitment that never overstates or condescends, the actress revered for her skew-whiff gems gets this one completely.