COMIC DRAMA; 1hr 49min (English and French with subtitles)
STARRING: François Cluzet, Toby Jones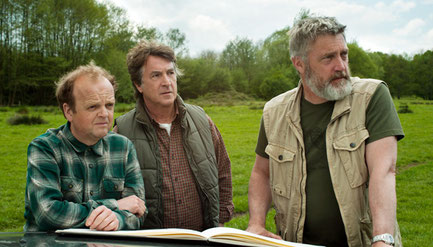 Field of dreams: from left, Jones, Cluzet and Vincent Regan strategise
With meat and dairy prices plummeting, the farmers of the sylvan Normandy village of Mêle-sur-Sarthe are doing it tough. And so it is that after a mad-as-hell roadblock protest gets them precisely nowhere, the immediate question is what steps to take to attract the media attention they sorely need.
Enter American photographer Newman (Jones, gamely tackling both French dialogue and the prospect of blood sausage), whose signature studies of regular people en masse and au naturel have brought him global acclaim. He plans to repeat this feat by photographing the population of Mêle-sur-Sarthe in a field that unexpectedly takes his fancy while travelling to Paris. It's Calendar Girls with cows! But country folk are conservative and despite the best efforts of their cheerleading mayor (The Intouchables' Cluzet), for whom nudity-as-art makes every kind of common sense, not all the villagers are on board—to put it mildly...
Mixing actual, at-home locals with veteran actors, filmmaker Philippe Le Guay (The Women on the Sixth Floor) takes a benevolent interest in exploring what makes his smorgasbord of characters tick as they go about the multifaceted business of living. The farmers are seriously hurting, but the easy cadence of country life still seems paradoxically timeless and safe—until, in a blink, it doesn't. Yet even when emotions run high and people veer wildly off the rails, the heart of the matter never really wavers. Above all, this is a story of the commonality forged by staying a rocky course. As the people of Normandy work hard to discover, unity really can translate as strength—no matter what it happens to be wearing.