DRAMA; 2hr 1min
STARRING: Charlie Plummer, Steve Buscemi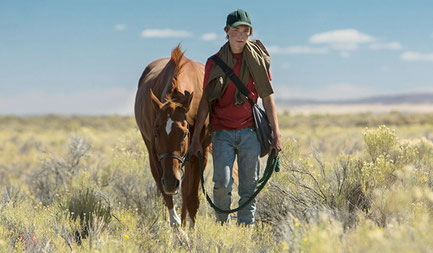 Plummer (with Starsky as Pete) strikes out
Lean on Pete is a five-year-old chestnut quarter horse with movie-star eyes that fit the bill since he moseys off with every scene he's in. Pete and 15-year-old Charley are both doing it tough, the horse as a battler on low-rung racetracks and the boy as a casualty of an inadequate social system. With nobody around to care for him, Charley has fallen in with crabby Portland, Oregon, horse owner Del (Buscemi) and a seedy milieu where nags are dispensable and survival is cash in hand (and where Chloë Sevigny makes a bracing appearance as a no-nonsense jockey).
Del, whose vinegary temperament makes disillusionment look wide-eyed, has little time for horses, particularly poorly performing ones. With Pete slated for the knackery and Charley refusing to accept his newfound buddy's fate, the two outcasts take off in Del's truck and trailer, heading across country to Wyoming and a lost aunt who, at this low point, is Charley's only hope for a stable, loving life.
English writer-director Andrew Haigh, who dissected marital heartbreak with such acuity in 2015's 45 Years, displays the same stealthy technique with his played-down grasp of Willy Vlautin's 2010 novel. Steering clear of sentiment, Plummer's quiet, considered performance is a striking contrast to the grave-deep hole that the homeless Charley is in danger of digging for himself. Charley is no quitter. There's a pervading sense of hope and humanity to his heavily loaded journey. But the disenfranchised aren't easily found or healed, and this is no fast-lane trip to redemption.