DRAMA; 2hr 10min
STARRING: Michael B. Jordan, Sylvester Stallone, Tessa Thompson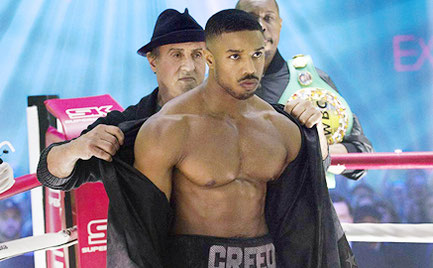 Cornerstone: Stallone (left) and Jordan gear up
If the heart of 2015's smashing coming-of-ager Creed was about self-realisation and the imperatives of mortality, Creed II has moved on with the opening question of what more life can hold for a man who has everything. By now, boxer Adonis Creed (Jordan) is at the apex of his game as world heavyweight champion, newly engaged to singer-songwriter Bianca (Thompson). His world is looking mighty fine—although, naturally, not for long. Adonis's late father Apollo's sneering Ukrainian arch-nemesis, Ivan Drago (Dolph Lundgren), and his hulking, charisma-challenged boxer son, Viktor (Florian Munteanu), have flown to Philly to issue Adonis a fighting challenge he's too bolshie to walk away from, despite sound advice from his worldly-wise trainer Rocky Balboa (Stallone. Who else?).
Adonis is intent on avenging his father's death at Ivan's meaty hands. "This is our chance to rewrite history," he insists. Which sounds awesome in theory, except that history isn't so easily undone, and as it turns out, a man who has everything can also be poised to lose it.
The two showpiece boxing matches are operatically barbaric, captured by director Steven Caple Jr in sweaty, hectic close-ups. And if the rest of the story feels chiselled in stone, its heart and cast make the trip worth taking. Jordan's tensile energy is a coiled spring beneath his every mesmeric encounter. Senior stallion Stallone slips Rocky back on for his eighth outing with the ease of a CREED sweatshirt, while Thompson's Bianca is a fine calibration of steadiness and concern. Like its predecessors, this is a movie of lofty, emotive ideas about courage, honour and the different forms of love. It can't hope to impact with the shock of the new, and that's not what it sets out to achieve. These are characters we care for. Revisiting them is enough.