CRIME; 2hr 9min
STARRING: Viola Davis, Michelle Rodriguez, Elizabeth Debicki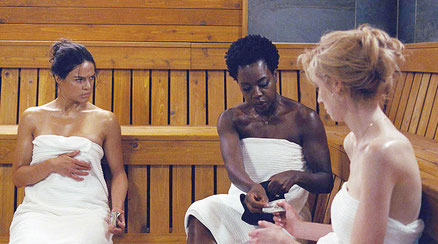 Steam queens: from left, Rodriguez, Davis and Debicki talk turkey
Viola Davis says more with her inner smoulder than many actors manage with the proverbial thousand words. All the better, then, that in the strongly cast but worthily overcrowded heist drama Widows, the lady has a stack of contingencies to work with.
Davis is Veronica Rawlings, the classy widow of Chicago career criminal Harry Rawlings (Liam Neeson), whose death along with his gang in a bungled job leaves her $2 million in debt to a local bully boy (Brian Tyree Henry, with Get Out's Daniel Kaluuya riding shotgun—literally—as his menacing brother). Allotted one measly month to repay funds she doesn't have, Veronica is shell-shocked, yet made of sufficiently stern and resourceful stuff to recruit fellow fiscally screwed widows Linda and Alice (Rodriguez and Debicki; Cynthia Eviro's Belle is a later addition).
Veronica's payback plan to steal $5 million is a desperate amateur's measure, and this being 12 Years a Slave director Steve McQueen's latest enterprise, co-written with Gone Girl's Gillian Flynn, no punches are pulled in its clumsy execution. Forget the easy out of frothy caper flicks: these are wronged and smarting women pushed into a tailspin. Their hard-won, reality-bitten rigour isn't especially endearing. But since the men in their orbit—Robert Duvall and Colin Farrell as weaselly Irish pollies included—are all beyond the pale, Team W is the obvious barracking option.
Widows originated as a 1980s British TV series written by Prime Suspect's Lynda La Plante. Contemporised to a flinty, unforgiving sheen, its machinations make for a dirty business, no matter which side of the law their participants are nominally on. When the single moral certainty is that there are none, the unmasking of social inequities is an admirable way to go, of course—in Steve McQueen movies as in everyday life. But a little light amid the shade? That's not about to happen.