DRAMA; 1hr 47min
STARRING: Paul Bettany, Sam Clafin, Asa Butterfield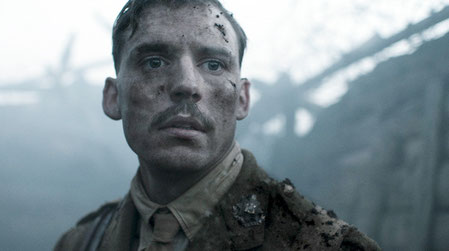 The rat-infested trenches at Aisne in Northern France are no place for a boy in the spring of 1918. But that's where Second Lieutenant Raleigh (Butterfield), fresh out of military school and sopping wet behind the ears, naively requests to be sent. Jimmy is keen to be reunited with his much-admired older schoolmate, company commander Captain Stanhope (Clafin, barely recognisable as the cruisey rover in Adrift), yet the man he fondly misremembers is barely clinging to a sense of himself after three years of warfare.
As the company settles into its compulsory six-day frontline stint, and with rumours percolating of an upcoming German assault, Stanhope bunkers down in the poky officers' dugout, knocking back shots of whisky that do nothing to lighten his thunderous self-loathing. The commander is wrung out by suffering, although not so far gone, more's the pity, that he fails to see what a wreck he's become. It falls to his older and wiser second-in-command (a fatherly Bettany) to pick up the few pieces he can through what have to be the longest six days in pretty much any man's life.
Director Saul Dibb and screenwriter Simon Reade's bird's-eye treatment of R.C. Sherriff's much applauded 1928 play takes root in the awful intimacy of the trench-warfare waiting game and, by association, the resident demons that menace Stanhope from within and without. When his men do see catastrophic action, its pandemonium and destruction are par for the horrific battlefield course. But even before they prepare to meet their maker, the wounds they bear are indelible.