DRAMA; 1hr 52min
STARRING: Steve Carell, Timothée Chalamet, Maura Tierney, Amy Ryan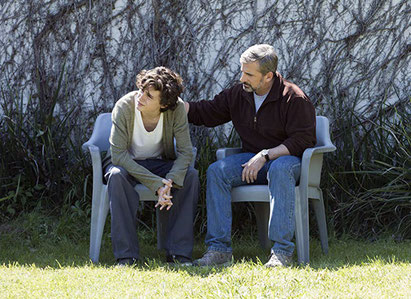 Father and son, undone: Chalamet (left) and Carell
Drug addiction, surely among the most frightening and bewildering of ties that bind, is the elephant eating the room alive in Belgian director Felix Van Groeningen's artful, uncomfortable film of a real-life history. That history has been adapted by Lion screenwriter Luke Davies from the combined memoirs of father-and-son David and Nic Sheff, the father (Carell) being a print journalist and his then-18-year-old son (Chalamet) a crystal-methhead.
From "[taking] the edge off" with weed, the teenage Nic caroms through a smorgasbord of drugs and alcohol, then washes up in rehab. Remorsefully vowing to do better, he cleans up his act and heads to college to pursue his dream to write. He has everything going for him, and David is his rock through transformative highs and bottommost lows, but the sucking pull of Nic's dependence proves stronger than them both.
Director Van Groeningen (The Broken Circle Breakdown) tunnels painstakingly into the Sheffs' twinned tale in his first movie in English. His multi-directional paths alternate between a much-loved Nic's Californianchildhood—throughout which his divorced father had primary custody—and detours into David's second marriage (to Tierney's tolerance-challenged artist, Karen). There are no lightning bolts in the two-and-fro of Nic's blinkered nosedive and David's frustration and fear, just portrayals that ring clear and true. 
As a chalky Chalamet hollows himself out on-screen, Carell, his kindly face creased with paternal concern, is the reactive embodiment of helplessness. That not every scene is doomy only throws those that are into sharper relief. One gauzy sequence, which sees a momentarily carefree Nic clowning with his young half-brother and sister in the woodsy garden of David and Karen's Marin County home, is a luminous snapshot of the life he could have been leading. But this is not that story.