DRAMA; 1hr 42min
STARRING: John Cho, Debra Messing, Michelle La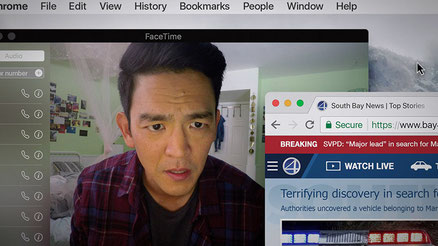 Given the current shared fixation with screens great and small, director and co-writer Aneesh Chaganty's cleverly executed feature debut can't help but make a singularly personal impression. Searching is a mystery-wrapped riddle explored entirely via contemporary technology, and true to virtual form, it never lets up for a second.
Through photos, videos, phone calls, texts, FaceTime and search engines, the Kim family of San Jose, California, comes into necessarily sketchy but deftly explored focus. David (Cho—a long way from White Castle) and his wife, Pam (Sara Sohn), are prolific sharers whose daughter Margot (La as a teenager) grows up onscreen. She's a sunny and loving kid, which makes her overnight disappearance at age 16 inexplicable. Furthermore, David discovers she's skipped six months of piano lessons, pocketing the $100 fee each time.
By now, David is frantic. While the harried detective on the case (Messing) gets to work, he undertakes his own desperate sleuthing. Logging onto Facebook to start the hunt, he realises with a slow-dawning, sickening sense of helplessness how little he really knows his daughter.
As the search ramps up, the white noise of online grandstanding and media-whipped hysteria feel uncomfortably familiar. Information and communication aren't close to being the same. What David eventually uncovers is as confounding and disturbing as the crazy computer quilt he constructs to get there. The message comes through loud and clear: boxed into onscreen identities, locked into solitude in the name of reaching out, it's dangerously easy for anyone who so chooses to conceal themselves completely in plain sight.