DRAMA; 1hr 29min
STARRING: Joaquin Phoenix, Judith Roberts, Ekaterina Samsonov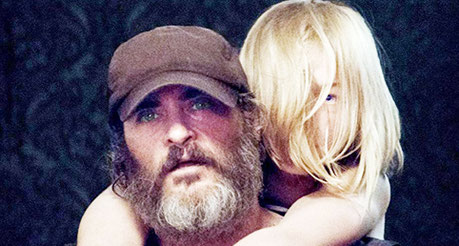 Emotional rescue: Phoenix and Samsonov
Joe (Phoenix) is a hooded figure who prowls by night in darkness within and without. He's psychologically and physically scarred from childhood abuse and combat service, a nudging-menacing lone wolf who takes paradoxically gentle care of his scrappy, frail mother (Roberts) in their Queens home.
Joe's current life's mission is the rescue and retrieval of sex-trafficked girls who are invariably lost in many more ways than one; work that weighs as heavily as the harrowing personal memories he's powerless against. His stamping ground is the sinkhole of New York's meaner streets, where the violence to which he is inured is a casual currency, and missteps, such as the one that catches up with him during the removal of a politician's young daughter (Samsonov) from a paedophiles' den, are fatalities waiting to happen. Suddenly—and shockingly, writer-director Lynne Ramsay (We Need to Talk About Kevin) being no puller of punches—everyone around Joe is a target, not least of all himself.
With its hard-line focus, spare dialogue and a banging soundtrack from Radiohead's Jonny Greenwood, Ramsay's adaptation of Jonathan Ames's 2013 novel needles deep into the sticky fabric of entrapping pain. Phoenix once again gives his tortured, inspired all, searing Joe's torment into permanence. The history of violence that defines Joe is duly sickening. But the shadowland of his psyche is inescapable—and isn't that anyone's hell on Earth?