DRAMA; 1hr 49min
STARRING: Thomasin Harcourt McKenzie, Ben Foster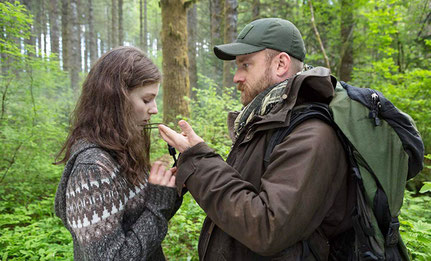 Ties that bind: Harcourt McKenzie and Foster
To hide out in a national park takes the grace, stealth and skill of a wild animal. Will (The Program's Foster) and his 13-year-old daughter, Tom (Harcourt McKenzie), have been doing just that in Portland, Oregon, living peacefully off the grid for what seems to be some time, wrapped in delicate fronds of greenery that fail to conceal them, when Tom is spotted and the long arms of the law close in.
Their subsequent—and by Will, unwanted—gentrification initially provides no clues to who they are or how they came to be where they were. Father and daughter are housed on a Christmas-tree farm, where he is put to work. Integration is the well-meaning objective, but mainstream options are no longer viable for Will and escaping their pressure is only a question of time.
As she did with 2010's atmospheric Winter's Bone, director Debra Granik allows her screenplay—co-written with Anne Rosellini and adapted from Peter Rock's 2009 novel, My Abandonment—to flow at an easy, unforced pace, and the actors to shine with a quiet, steady, emotionally revelatory light. In the end, the largely unexplored details of what happened to Will to drive him to solitude are secondary. What matters are the tender fibres of a father-daughter bond that Tom in her teenage wisdom must loosen to move on and whose pain-forged ties cut poignantly deep.