CRIME DRAMA; 1hr 57min
STARRING: Albert Dupontel, Nahuel Pérez Biscayart, Laurent Lafitte, Niels Arestrup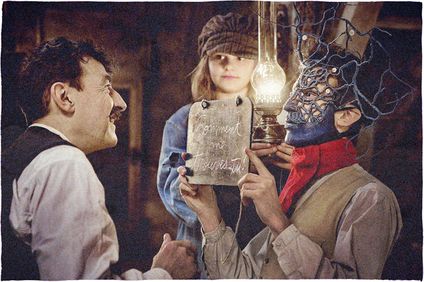 Complétement chic! From left, Dupontel, Balster and Biscayart
Having scraped through the deranged carnage of World War I, former bookkeeper Albert (director, co-writer and narrator Dupontel) and his compadre Edouard (Biscayart) embark on a life of crime in Paris after faking Edouard's death (father issues are involved). They do not, it begs to be said, make the prettiest picture. Edouard's jaw has been mangled in combat, leaving him hooked on morphine and growling like a beast. Breadwinner Albert is meanwhile reduced to manning the lift at the tony Le Bon Marché department store. Their fortunes improve, however, when gifted artist Edouard crafts himself a wardrobe of drop-dead face masks and brainstorms a scheme to design and sell bogus war memorial catalogues to anyone gullible enough to buy them.
While the wily vets and their waifish accomplice (Héloise Balster) get busy, Edouard's despised father (Arestrup) is living large on the Champs Elysées and keen to fund a memorial of his own. There's a cold-blooded lieutenant (Lafitte) in the plot stew, as well, as if Albert and Edouard weren't already up to their necks.
Not only does Dupontel wear a swag of hats in his windy adaptation of Pierre Lemaitre's award-winning 2013 novel, but they come in a jarring rainbow of styles. The hell of war, the anguish of disfigurement, the art of the con topped with lavish dollops of whimsy are a tough sell as a creak-free whole, let alone for two, incrementally long hours. Dupontel and his tireless gang muscle through on a cocktail of chutzpah laced with a decisive sense of justice. More power to them for stamina alone, although like the legal process itself, they seem to be in no hurry to make it over the line.