SCI-FI; 1hr 59min
STARRING: Dan Ewing, Temuera Morrison, Stephany Jacobsen, Rhiannon Fish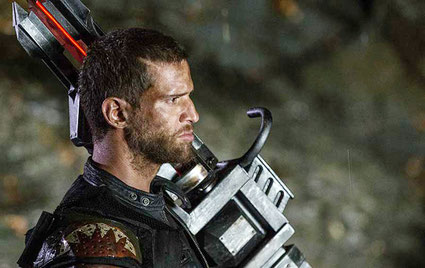 Before a tribe of aliens attack Earth, meanly blasting the bejesus out of everything in their path, night-time footie in a small Aussie town (unnamed but actually Murwillumbah, NSW) is as home-grown as it gets. The blindsided gang of ten who come together after the brutally interrupted match, in the face of what they later learn is a global blitzkrieg, don't look to have a shot against it. Not only are their strapping interlopers fully equipped, hardware-wise, with face and body armour, heavy-duty weaponry and a fearsome fleet of ships, but, as the ensuing nine months will prove, the surly ETs aren't inclined to play nice.
The Intrepid Ten are tougher than they think, though, and what a Ten they are: Ewing is a troubled, one-time rugby star, Morrison a volatile ex-con intent on keeping his family together, Jacobsen a no-nonsense coper and Fish a newly pregnant nurse. Throw in a self-centred radio host, a local outcast, the obligatory rebel teen, a self-loving football hunk and a boy forced to grow up fast and we're practically talking Shakespeare.
Hostile aliens have always made excellent what-if material. Writer-director Luke Sparke brings an edgy awareness to the Ten's ongoing battle with his—as it turns out when the helmets come off—crater-faced bullies (their Leader voiced by none other than Stork himself, Bruce Spence). There are a lot of logistical and FX balls in the air here, kept afloat by the hectic momentum of kill-or-be-killed confrontations that build to a juicy, militaristic finish. Occupation isn't big on psychological exposition. Its characters are drawn with short, decisive strokes, and, in any case, everybody is flat out trying not to die. But it sure has sound and fury sewn up.