ROMANTIC DRAMA; 1hr 36min
STARRING: Shailene Woodley, Sam Clafin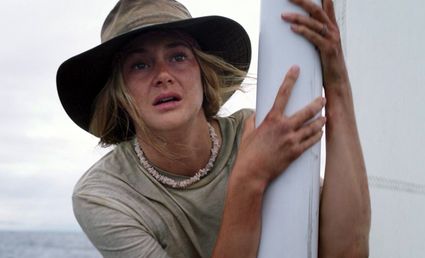 Idyll, interrupted: Woodley
In the efficient opening scene of Adrift's true story, a young woman (Divergent's Woodley as Tami Oldham), her face bloodied, awakens from unconsciousness to find herself alone on a partly submerged yacht with no land in sight. The following scene, set five months previously, sees 23-year-old San Diego native and roving maverick Tami arriving in Tahiti. She takes a job at a marina where she meets fellow traveller Richard Sharp (The Hunger Games' Clafin), an easy-going, attractive, 34-year-old Brit. The two are a carefree fit, the swift intercutting of their spontaneous courtship by Everest director Baltasar Kormákur at burnished variance with the gutting reality of open water.
Courtesy of a fearsomely rendered, category-4 CG hurricane, what was supposed to be the idyllic, paid assignment of sailing an upmarket yacht from Tahiti to Tami's home town has become a study in abandonment. Rescued by Tami from the boat's nearby dingy, Richard is immobilised by injury. The onboard electronics have shorted out, and this being 1983, there's no alternative tech. "We're going to die out here," Tami flatly observes, a statement she repeats a lot less calmly 29 days in and counting.
Since the screenplay is based on Tami's 2002 memoir, that obviously wasn't her fate. This, then, is a story of survival as a gruelling test of will, along the well-worn lines of Life of Pi and All Is Lost.Tami's battle with the indifferent and terrifying ocean is inevitably painful, dangerous and frustrating, and Woodley gives those states of play everything she has. Despite a third-act reveal, the lure of suspense is necessarily lacking. But nothing can detract from a performance whose generosity and courage fill the screen.