COMEDY; 1hr 30min
STARRING: Steve Coogan, Paul Rudd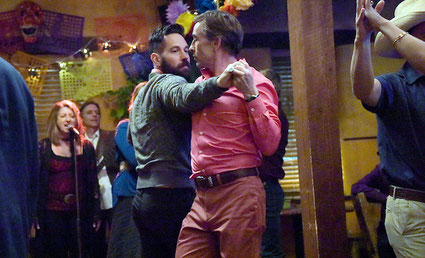 Stepping out: from left, Rudd and Coogan
Families come in an endless assortment. But it's a safe bet that few of them are as ill-assorted at first as flamboyant TV chef Erasmus (Coogan), his acerbic, panic attack–prone partner, Paul (Rudd), and the pugnacious 10-year-old grandson (Jack Gore as Bill) Erasmus didn't know he had.
With his mother MIA and his father (Jake McDorman) temporarily incarcerated, Bill has nowhere to go but Erasmus and Paul's splendid Santa Fe spread. Put mildly, he's a disruptive presence. Erasmus and Paul are spit-spatting hedonists. ("He's like a gay Butch Cassidy," Paul says scathingly of Erasmus on horseback. "Except not butch.") They love each other as much as they cherish their boozy gourmet dinners and immaculately curated décor. This is hardly a set-up tailor-made for a child, in other words, let alone a potty-mouthed gloomy Gus with a laundry list of issues.
Writer-director Andrew Fleming (The Craft) describes his shout-out to inclusion as "the most personal movie I have ever made." It's a foregone conclusion that the contradictory threesome will muddle through to a happily-ever-after and that with 24 Hour Party People's Coogan and Ant Man's Rudd on the scene, killer one-liners are guaranteed to fly. And in time, there's an unexpected sweetness in play, as well, when Santa Fe's consummate sybarites embrace the joys of parenting. Not too sweet, though, heaven forfend. Every happy family deserves a cutting edge.