DRAMA; 1hr 54min
STARRING: Rachel Weisz, Rachel McAdams, Alessandro Nivola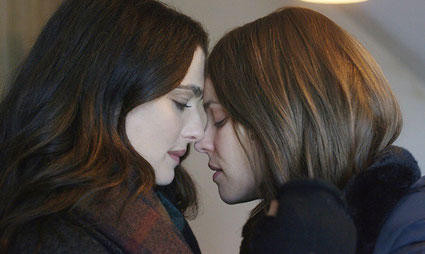 Hearts divided: Weisz (left) and McAdams
The Orthodox Jewish community of A Fantastic Woman director Sebastián Lelio's emotionally messy English-language debut is a cloistered world and mysterious to many. Beneath its decorous rituals, passions run deep in a screenplay by Lelio and Rebecca Lenkiewicz, based on the 2006 novel by The Power's Naomi Alderman, its title embodied by the rebellious Ronit (Weisz).
A left-field, New York–based photographer, Ronit has returned to London for her rabbi father's funeral. She has lapsed from the faith, which its adherents resent, but her break with tradition hasn't made her happy. Even more taboo, of course, is her rekindled affair with her childhood friend and lover, Esti (McAdams), now a teacher and married to her and Ronit's devout, mutual friend, Dovid (Nivola). Yet when has disapproval ever been a lasting deterrent?
The look of cinematographer Danny Cohen's London is subdued and wan but the intensity that inflames the women is incendiary. Ronit and Esti are as exotic and alive as hothouse blooms against the uniform drabness. Their attraction to each other is so elemental that when they're alone, it's impossible to imagine them apart. It's also impossible to believe that such ravenous hunger can ever be easily satisfied.
While Nivola gracefully navigates Dovid's singular conflicts, Weisz and McAdams aren't holding back, their characters' urgent sexuality a glaring contrast to Esti and Dovid's religiously sanctioned coupling. Disobedience is in part about the burden of such duty, but there's a beauty to time-honoured boundaries, as well. Question and test them, and something is bound to break.