DRAMA; Ihr 55min
STARRING: Simon Baker, Elizabeth Debicki, Samson Coulter, Ben Spence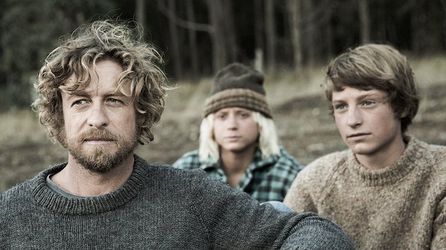 Baker's boys: from left, Baker, Spence and Coulter
Some friendships are a marriage of opposites. Thirteen-year-old Bruce Pike, aka Pikelet (Coulter), is thoughtful and sensitive. His best mate, Ivan Loon, aka Loonie (Spence), is a scallywag who runs wild and is up for anything. But from day one, they're both in thrall to the primal joy of surfing, which the adult Pikelet — voiced by Tim Winton, on whose 2008 novel the screenplay is based — recalls as "… dancing on water … the best and bravest thing a man could do." Then they meet one-time surfing great Sando (The Mentalist's Baker, making his feature-film directing debut), and their minds are properly blown.
Sando is enigmatic and private but something in him responds to the boys, who, for their part, can't wait to shatter restrictive boundaries. This is 1970s Western Australia, where thrills are thin on the ground and the ocean thrums with mysterious life. Out there with Sando urging them on, or holed up with him and his aloof American wife, Eva (Debicki) in their boho log cabin, Pikelet and Loonie learn to redefine their focus.
The sinewy grace of surfing can't help but hook you in, and Coulter and Spence run rings around their adventures. But the waves and the metaphors they evoke—along with Pikelet and Loonie's differently evolving relationship with them — are only part of the coming-of-age picture. Bookish, sheltered Pikelet has a great deal to learn, and in their different ways Sandro, then later Eva, have an equal amount to teach him: about what newfound dangers he's willing and able to face and the resolve he needs to call upon to understand his boundaries.