DRAMA; 2hr 8min (Russian with subtitles)
STARRING: Maryana Spivak, Aleksey Rozin, Matvey Novikov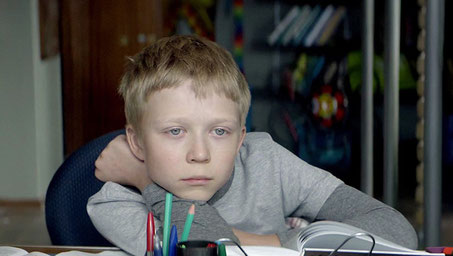 The opening shot of a woodsy, wintry, black-and-white vista sets the tone of cold austerity for filmmaker Andrey Zvyagintsev's latest, chiller showpiece. Its temperature is no warmer inside the Moscow apartment of divorcing couple Zhenya and Boris Sleptsov (Spivak and Rozin), whose toxic bickering leaves their 12-year-old son, Alyosha, isolated and distraught. Alyosha (Novikov) is acutely aware that his parents, who are each involved with other people, can barely stand the sight of each other, and that he, by default, is an encumbrance. And so it is that while Zhenya and Boris are luxuriating in their sexy new relationships, Alyosha apparently takes the initiative and runs away.
The Sleptsovs' search for their son is a fruitless interior journey, as well. "How did all that talk of love and happiness lead only to pain and disappointment?" wonders Zhenya, to which neither she nor Boris has any response but continued blame and shame. So intense is their mutual loathing that it overshadows even the loss of the child Zhenya repeatedly insists she never wanted, much as the spectre of restrictive bureaucracies looms large over the wholesale gloom.
Zvyagintsev (Elena, Leviathan) is a consummate disassembler of self-serving behaviour in diverse walks of life. Zhenya and Boris might be physically comfortable, but their emotional landscape, captured by cinematographer Mikhail Krichman in fluid, painterly strokes, is poisonous and barren. As an indictment of his parents' indifference, Alyosha's vanishing takes its time to make itself felt. When the full force of it does kick in, their reckoning with what they've thrown away is the indelible curse of too little, too late.