ANIMATED; 1hr 41min
VOICES BY: Bryan Cranston, Edward Norton, Bill Murray, Bob Balaban, Jeff Goldblum, Koyu Rankin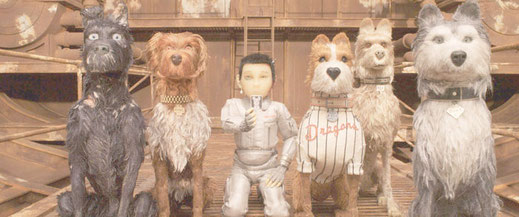 Dog squad: from left, Chief, King, Box, Rex and Duke with Atari (middle)
When Mr Whimsy, director Wes Anderson, takes Japan—or at least, his quasi-futuristic incarnation of it—it's in fantastical stop-motion animation. Set 20 years hence in fictional Megasaki City, Isle of Dogs is The Grand Budapest Hotel filmmaker's off-centre homage to both Japanese cinema (with a whole lotta love for Akira Kurosawa) and the pure souls of man's best friend.
Norton, Murray, Goldblum, Balaban and Cranston are the no-nonsense voices of domestic dogs Rex, Boss, Duke and King and bitey stray Chief, respectively. After a bout of Snout Fever threatens to infect humans, they and the city's entire canine population are exiled to the abandoned wasteland of floating garbage dump Trash Island by diabolical Mayor Kobayashi (Kunichi Nomura, speaking, as do all the Japanese humans, in his untranslated native tongue; luckily, the barks are in English).
First cab off the rank is Spots (Liev Schreiber), the true-blue bodyguard dog of the mayor's 12-year-old ward, Atari (Rankin). His buddy's banishment doesn't sit well with the resourceful sprog, who steals a pocket-sized plane and flies himself to the island, joining forces there with Chief and Co on a rescue-and-retrieval mission.
That's the spine of an heroic Boy's Own, its plot thickened by the zealous efforts of pro-dog activists and the malevolent tentacles of the mayor, and given mercurial life by Anderson, his screenwriter allies and the minor miracles of stop-motion. The interwoven exploits are so densely packed with lightbulb moments that one viewing doesn't feel like nearly enough, but their essence is simplicity in action: even the most tenacious evil is no match for undying love, especially with a twitching nose and tail attached.