THRILLER; 2h 19min
STARRING: Jennifer Lawrence, Joel Edgerton, Matthias Schoenaerts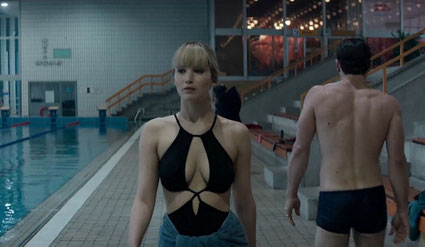 I spy: Lawrence (with Edgerton)
Brutally sidelined for life by her Bolshoi Ballet dance partner, prima ballerina Dominika Egorova (Lawrence, working a Russian accent) is financially vulnerable. To protect her infirm mother's future, she is forced to agree to recruitment into the Russian Intelligence Service at the hands of her oily-wily uncle (Schoenaerts). Some uncle! Dominika endures a depressing training course as a so-called Sparrow, led by a haughty Charlotte Rampling who never met a physical humiliation she didn't like.
The course aims to recondition the best (looking) and brightest to have secrets-exposing sex for their country. Dominika's enviable body will be her honeyed tool of seduction, fembot-style. Sound like fun? Not so much! "Whore school," as Dominika pithily labels it, is deadly serious and her debut assignment, of cosying up to a Budapest-based CIA agent (Edgerton, ambling through the motions), is no beach stroll, either. (Which is probably only to be expected, considering the screenplay is based on a book by one-time CIA operative Jason Matthews.)
Everyone on both sides is as tough and slippery as all get-out, and despite the sexy premise, nobody is having a good time. The stony tone becomes a drag, the film drags its feet and the violence is sickening. Hunger Games director Francis Lawrence does have a significant bright spark in the gorgeously watchable Lawrence, though. Jockeying for tactical advantages, her Dominika marries the sleek impassivity of a jungle cat with the cream-skinned face of an angel. A down-in-the-mouth and put-upon one, worse luck, but in this chilly snake pit that's all par for the course.