DRAMA; 1hr 47min
STARRING: Jason Clarke, Kate Mara, Ed Helms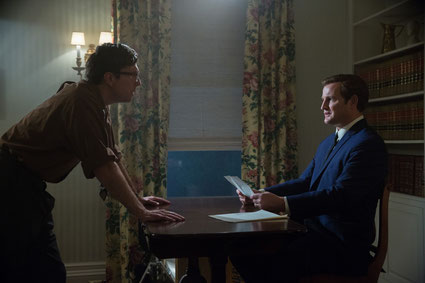 Spinning around: from left, Helms and Clarke
Friday, July 18, 1969: Apollo 11 is about to land on the moon and Senator Edward Kennedy (Clarke) is about to crash and burn. The way Tracks director John Curran tells it, "Teddy" is a resentful brooder, unwillingly on course for the White House in '72. Then comes the Friday-night nosedive, which sees a car driven by the senator after too many drinks careen off a bridge on Chappaquiddick Island, Massachusetts. Kennedy escapes but the pretty former staffer with him (Mara as Mary Jo Kopechne), around whom sexual rumours would swirl, drowns.
How to spin the seemingly unspinnable? The senator is married. He saved himself and left Mary Jo to die. Australian actor Clarke (Everest), whose fleshy physicality effectively evokes the man, plays him as anguish-wracked—for the burdensome political future he was born to inherit and, briefly, for the terrible harm he has done. In the harsh light of that harm, a sinister miasma clings to every shoddy consequence of his rash actions, starting with his failure to immediately report the accident.
As Kennedy and his fixers scramble (swinging from harried to more harried, Helms and Jim Gaffigan are the first and second bananas), you see a limited and conflicted man conniving to cover his ass. He is in no way a sympathetic figure. But Curran's studied treatment of the post-crash week and Kennedy's inept manoeuvring do generate a queasy fascination. Mary Jo is the real victim, of course, but "the Lion of the Senate" doesn't escape unscathed. Overshadowed even in death by his two glamorous elder brothers and despised by his stroke-felled father (Bruce Dern), he's a victim of his storied family and, finally, of his chronically flawed self.