COMIC DRAMA; 1hr 34min
STARRING: Saoirse Ronan, Laurie Metcalf, Tracy Letts, Lucas Hedges, Timothée Chalamet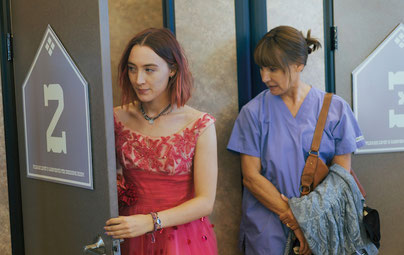 As mother and daughter, Ronan (left) and Metcalf test the ties that bind.
It's 2002 and 17-year-old Christine "Lady Bird" McPherson is interred in a Catholic high school in Sacramento, California, while dreaming resentfully of the East Coast college she's convinced she deserves. Brought to spiky life by an au naturel Ronan, Lady Bird is the creation of actress Greta Gerwig (Frances Ha), stepping up to the writer-director plate for the first time with the smoothness of an old hand and an older soul. Between Gerwig, Ronan and a support cast that never gets it wrong, the swings and roundabouts of adolescence are a wholehearted gift that keep on giving.
Lady Bird spits and spats with her scrappy mother, nurse Marion (Metcalf, totally the business), who is otherwise flat out supporting the cash-strapped family after her husband, Larry (Letts), is fired.
Being 17, Lady Bird falls in love twice (first with a sweetly needy Hedges and then a broody Chalamet, from Call Me by Your Name). She appears in a school production of Merrily We Roll Along. She ditches her lovable bestie (Beanie Feldstein) for a cool girl (Odeya Rush), which anyone but her can see is the most mindless call she could make. She deals, pluckily, with a shaky start to prom night.
If all this feels familiar, it's because coming-of-agers have a limited choice of arcs. There's nothing brand new to be said or seen here: what makes it sing is the authenticity that shines through in every scene. Gerwig's affectionate screenplay—based in part on her own experiences—is as eager to please and easy to like as her bubbly performances have been. Even its lowest downers are a path to a new light.