DRAMA; 1hr 44min
STARRING: Josh O'Connor, Alec Secareanu, Gemma Jones, Ian Hart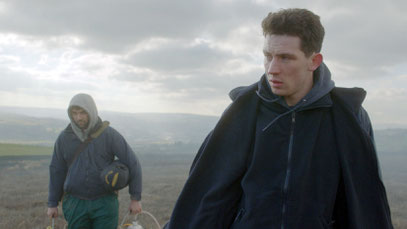 O'Connor (right, with Secareanu)
The realism of writer-director Francis Lee's love-struck first feature is as raw as the rural business of birth and death. At its heart is 24-year-old Yorkshire farmer's son Johnny Saxby (O'Connor), hard-pressed from the first frame in which he's seen retching into a loo after a night on the tiles. He then proceeds to stick his arm up a cow's rear end and later to have thrusty sex with a man he doesn't want to know, all with the glum resolve of a prisoner in a tunnel without a guiding light.
The only way for Johnny is up, which is where he's headed when soulful Romanian farmhand Gheorghe Ionescu (Secareanu) arrives on the scene. Their blooming relationship melds the soft-hued shades of Brokeback Mountain with the rustic austerity of Cold Comfort Farm, although Lee, himself a farmer's son who grew up minutes from where the story was shot, is in no way playing for laughs. Filmed in sequence, the explicit action is so authentic that even the costumes were locally sourced.
As sheep are birthed, a stone wall is repaired and Johnny's crusty father (Hart; Jones is Johnny's resilient grandma) is felled by a stroke, an elemental bond is forged between Johnny and Gheorghe in silences markedly more expressive than the sparse inadequacy of words. There are no flowery outbursts as the bruised English loner learns a tentative language of tenderness. His instinctual connection is a gamble from the heart (possibly doomed, you can't help but fear), and all the more precious for that.