DRAMA; 1hr 50min (Gujarati with subtitles)
STARRING: Bhavin Rabari, Bhavesh Shrimali, Dipen Raval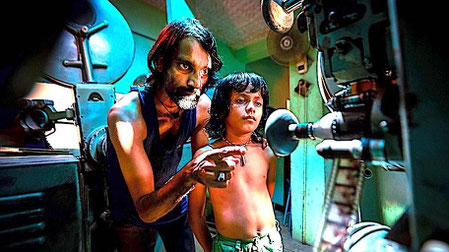 New eyes: from left, Shrimali and Rabari
Like young Sammy in Steven Spielberg's reality-inspired The Fabelmans, nine-year-old Samay (Rabari, a newcomer like his fellow cast members) is transfixed by his first experience of cinema. The film is a fervid homage — "Hail Goddess Kali!" — endorsed by Samay's otherwise killjoy father, Bapuji (Raval), as a suitable Brahmin experience. The way Samay sees it, what would a village tea-seller know? Film-making is his destiny whether Bapuji likes it or not.
Risking beatings, unrepentant Samay haunts the local Galaxy Cinema for more fervid homages: to life, love and the luminous magic of momentum. An entrepreneur to his scrawny bones, he cuts a deal with obliging projectionist Fazal (Shrimali), exchanging his scrumptious school lunches for a spot in Fazal's Galaxy booth, where he learns to operate a pre-digital 35mm film projector, and his fascination with the alchemy of light becomes a reason for being.
For anyone less driven, the story would probably have ended right there, except that this one was never going to: Samay, for whom the words "imp" and "scamp" might have been invented, has nothing to lose, endless days in which to lose it and an empire builder's sense of  purpose. And if he can't actually make a film, he and his enterprising buddies will put on a film show that will charm the socks off everyone who sees it.
Writer-director Pan Nalin (Samsara) completely appreciates how awesome it is to be swept away, with the totality of which only children and fanatics are capable. Making magic from a grab bag of scraps, Samay's refusal to quit turns every setback into a screw-this incentive, no matter what may otherwise be lost.