ANIMATION; 1hr 57min
VOICES BY: Gregory Mann, Ewan McGregor, David Bradley, Tilda Swinton, Cate Blanchett, Christoph Waltz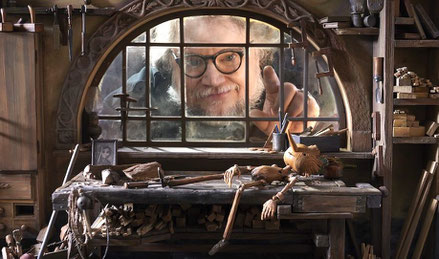 Del Toro (with Pinocchio) taps into a legend
Wooden puppet Pinocchio, a maker of mischief with a fluid grasp of facts and a growing nose that gives him away, has been acting up in scores of incarnations since 1883 when Tuscan writer Carlo Collodi dreamed him up in The Adventures of Pinocchio. Who better to re-animate the incredible this time out than Pan's Labyrinth writer-director Guillermo del Toro, arbiter of the uncanny, and Fantastic Mr. Fox animation director Mark Gustafson, whose stop-motion is magic in action?
Co-scripted by de Toro and Patrick McHale, the fable kicks into gear on a melancholy note when grieving woodcutter Geppetto (voiced by Bradley with a gusto seconded by the entire cast) carves a boy puppet (Mann) from pine wood as a replacement for his dead son, Carlo (Mann again), lost to a bombing in World War II.
Gifted with aliveness by Wood Sprite (Swinton), Pinocchio is a handful from day one, scandalising the stuffing out of Geppetto's fellow villagers with his lippy irreverence. Resident insect Sebastian J. Cricket (McGregor) is on hand for words of wisdom, but in seeking to find his feet as a regular boy, Pinocchio will dance and dance. Flicking school for a travelling carnival run by the wheedling Count Volpe (Waltz) and his monkey factotum Sprezzatura (Blanchett), he sings for his supper, extolling the virtues of fascism between visits to the domain of the dead (where Swinton pops up once more), which naturally faze him not at all.
How quintessentially del Toro it is to stain the fantastical with human depravity in a children's story acidly sharpened for adults. But while his Pinocchio may dip its jointed toes into darkness, with every ingenious image a gift and a hero puppet all bounce to the ounce, love is the engine that floats this offbeat boat.