DRAMA; 1hr 40min (Danish with subtitles)
STARRING: Nikolaj Coster-Waldau, Katrine Greis-Rosenthal, Charlie Gustafsson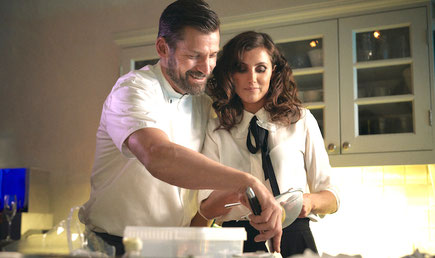 Tasty: Coster-Waldau and Greis-Rosenthal
Not all hunger is created equal. Your standard-issue ham sandwich, for instance, is done and dusted in a few bites. The hunger that director and co-writer Christopher Boe is dealing with, in his serving up of a zealous restaurateur couple, is a whole other pedigreed beast.
Chef Carsten (Game of Thrones ' Coster-Waldau) and his wife, Maggie (Greis-Rosenthal), are the owners of Copenhagen's Malus restaurant with an all-or-nothing desire for a much-coveted Michelin star for culinary brilliance. If the sculpted lines of their restaurant are Carsten's temple and its food-as-art his sacrament, the sculptural lines of his wife fit right in: like the quote from novelist Kathy Acker at the start of their story, Maggie too wants it all — including an affair with another chef (Gustafsson as Frederik).
The food prep is surgical in its precision, each leaf and slice almost too preciously placed to eat. But this is no Big Night. As the action cuts between the car crash of a present-day evening — in which the Michelin man is in town and nothing is going to plan — and the recent past, with each segment snappily captioned for a flavour (Sweet, Sour, Fat, et cetera), Carsten and Maggie meet up, hook up, then split up when he discovers what she has been up to with Frederik.
Not that Carsten is any frog prince. "All I've been is a jerk chasing a star," he morosely concedes. Which might have begged the question of how much appetite is too much if Carsten, Maggie and their self-serving agendas hadn't already answered it. The longer you spend with them and their two unwitting young children, the more unpleasant this talented and attractive couple starts to look. Yet perversely, that's also the reason you're unlikely to turn away, if only on the off chance that they may somehow prevail.