DRAMA; 1hr 57min
STARRING: Ralph Fiennes, Jessica Chastain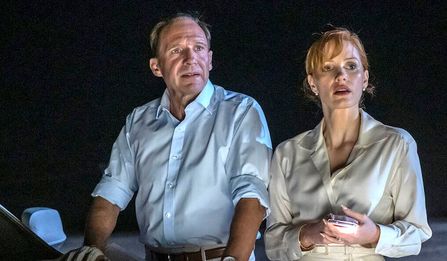 Car trouble: Fiennes and Chastain
The Moroccan desert of The Guard writer-director John Michael McDonagh's lavish exposé is as pitiless in its topography as it is in its social inequities. That latter imbalance is established in short order when, while driving by night to a blowout party, London-based visitors David Henninger and his wife, Jo (Fiennes and Chastain), hit and kill a local Muslim boy (Omar Ghazaoui as Driss).
The Henningers are the last thing from likeable — even, apparently, to each other. He is a bumptious British doctor with a hunger for the bottle, she is a luscious, frustrated American children's-book author, and if they have one quality in common it's that their every entitled utterance is dipped in petulance. Completing this unpleasant picture, the villa towards which the sniping couple are headed, with a squiffy David at the wheel, is a temple to wretched excess owned and extravagantly done up by their sybaritic chums Richard and Dally (Matt Smith and Caleb Landry Jones), who never encountered an indulgence they couldn't push to its limits.
As the merde proceeds to pummel the fans over a silkily debauched weekend in which the Henningers and the local police scramble to sweep the killing under a tribal rug, it will come as no surprise to readers of author Lawrence Osborne, whose 2012 novel is the basis of McDonagh's screenplay, that its cashed-up infidels are morally bankrupt. Osborne (The Glass Kingdom) is a supreme caustic observer, stabbing the jugular with lyrical prose. Absent its glittering sting, the filthy rich are a dime a dozen, even with David and Jo's death grip on depravity. It falls in the end to Driss's father, Abdellah (Ismael Kanater), a man of unassailable dignity despite his deep grief, to pave the way for a reckoning from which David in his arrogance had believed himself exempt.