COMIC DRAMA; 1hr 54min (Spanish with subtitles)
STARRING: Penélope Cruz, Antonio Banderas, Oscar Martínez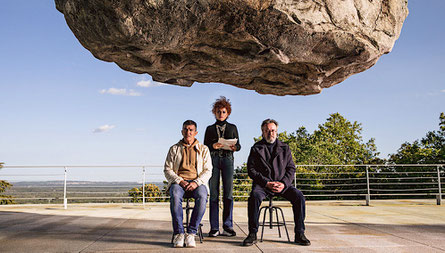 Rock and roles: from left, Banderas, Cruz and Martínez
Hitting 80, Don Humberto Suárez (José Luis Gómez) is questioning his legacy. A fortune made in pharma feels insufficient to a mogul who craves the prestige that only mucho dinero can buy. Financing a masterwork movie could well do the trick, the Don figures, and since nothing but the best will suffice, he options the Nobel Prize–winning novel Rivalidad ("Rivalry"), which he hasn't read. Maverick auteur Lola Cuevas (Cruz, whose frizz-wig speaks volumes) signs on to adapt and direct, with industry heavyweights Félix Rivero (Banderas) and Iván Torres (Martínez) to star as brothers bitterly estranged after the deaths of their parents in a car accident.
Since Félix is a marquee megastar and Iván a serious artist, from day one their rehearsals are a torrent of cross purposes. While the two big names butt their too-big heads, nth-degree perfectionist Lola is busy rolling out an array of mettle-testing hoops for them to scramble through. Her trials by fire would seem to bear zero relationship to the movie-making task at hand. But they do make a surreal movie in themselves, courtesy of directors and co-writers Gastón Duprat and Mariano Cohn, for whom social satire and absurdist drama are synergistically intertwined.
A deeply cynical, horribly credible chain of events unfolds from there, mostly conducted against the blank canvas of rehearsal rooms that place all the emphasis on the three practised leads. They walk its shapeshifting lines with a world-weary ease that nonetheless can't save them from themselves: as the combative actors merge step by step with their characters, the woman nominally running the show is entangled in the pulling of whatever strings she can.