COMIC DRAMA; 1hr 40min (French with subtitles)
STARRING: Nathalie Baye, Lyna Khoudri, Soumaye Bocoum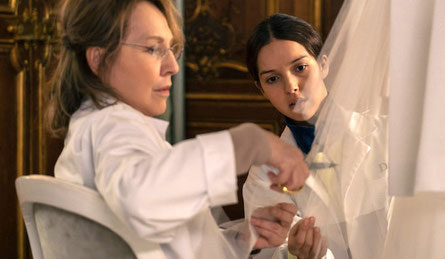 Mains event: from left, Baye and Khoudri
Before they meet anti-cute, Esther and Jade (Baye and Khoudri) are flexing their skills at opposite ends of the aesthetic spectrum. The hushed elegance of the House of Dior's Avenue Montaigne, Paris, workroom is head seamstress Esther's sanctuary and reason for being. Jade's thieving beat, on the other, shifty hand, are the trains of the Paris, circling shark-like with no destination but the Saint-Denis projects where she cares for her sickly mother (Clotilde Courau) and hangs with her sister-in-arms, Souad (Bocoum).
For Esther, facing a forced retirement that will reek of emptiness, destination is a source of dread. After Jade steals her bag in the Métro, then returns it for lack of interest, the two spit and spat over a dinner in which Esther nonetheless takes a liking to Jade's "nimble hands" and generously suggests she learns the craft of dressmaking. Jade is unconvinced, which pretty much sums up her 20-year-old worldview. But since she has nothing better to do, an internship at Dior will be a lifeline to a sense of purpose for her and her spiky mentor.
Inevitably, there are obstacles. Jade is as crafty and defensive as a feral cat. But Esther is more persistent than a solitary femme of a certain age who talks to her roses might conceivably be. Watching the younger woman take erratic shape while the older one battles her own entrenched defences is an A-to-Z in understanding from director Sylvie Ohayon and her two edgy leads, who mellow strictly on their own acerbic terms. In the hushed elegance of the Dior atelier, where beauty is as much a science as an art, Esther and Jade's unlikely friendship is another transcendent work in progress, layered with offbeat TLC, piece by contradictory piece.