ROMANTIC DRAMA; 1hr 34min
STARRING: Adeel Akhtar, Claire Rushbrook, Ellora Torchia, Shaun Thomas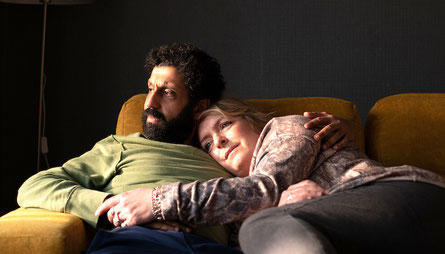 Holding on: Akhtar and Rushbrook
Loneliness has a habit of hiding in plain sight. Yorkshire landlord Ali (Four Lions' Akhtar) and classroom assistant Ava (Rushbrook) are surrounded by people in writer-director Clio Barnard's vérité affair: Ava is a widowed mother and grandmother, Ali has a wife (Torchia as Runa). Yet they are each fundamentally alone — she with the psychic wounds from her abusive marriage, he with the secret breakdown of his.
Linking up through their attachment to the moppet daughter (Ariana Bodorova) of one of Ali's tenants, the two bond through their mutual love of music (folk and country for her; electronic dance for him), their attraction blooming over one lunar month into a closeness about which nobody around them in their home city of Bradford is happy. Ava's seething son, Callum (Thomas, who also starred to shattering effect in Barnard's 2013 The Selfish Giant), is appalled by his mother's relationship with a British Pakistani man, at one point threatening him with a sword. Ali's sister is equally anti.
These roadblocks notwithstanding, Barnard brings her artless glad game to the open-handedness of the new, situationally challenged couple. Sweetheart Ava is endlessly giving. Ali's larrikin energy is a tonic. Whether this mutual goodwill can summon the muscle to outclass the blinkered preconceptions of their significant others is a vexed question. Only in fairytales are the paradoxes of love given a free pass. But Barnard would still like us to live in hope.