ADVENTURE; 2hr 17min
STARRING: Alexander Skarsgård, Nicole Kidman, Claes Bang, Ethan Hawke, Anya Taylor-Joy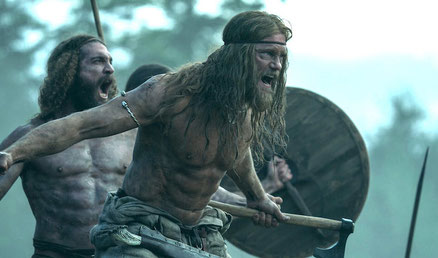 Past imperfect: Skarsgård
Liberally frosted for premium impact, director Robert Eggers's North Atlantic of AD 829 is almost viscerally wintry but the blood of its people is boiling. "If I fall by the enemy's sword, you must avenge me or forever live in shame," King Aurvandill (Hawke) instructs his unfortunate young son, Amleth (Oscar Novak), with prophetic relish. The next day the king is dead, sliced to oblivion by his brother Fjölnir (Bang).
Swearing vengeance, the horrified yet enterprising Amleth escapes in a rowboat, leaving his regal mother, Queen Gudrún (Kidman and her overflowing wig), in Fjölnir's grasping hands. Rescued by Viking berserkers (and if ever a name spoke for itself…), Amleth, now furiously played by Skarsgård, grows into a throwback, wolf-channelling version of an angry young man, complete with chiselled six-pack and heavy heart.
Heavy and how: bear in mind that Amleth is not only Scandinavian legend's precursor to Hamlet but Eggers (The Witch, The Lighthouse), who co-wrote the screenplay with Icelandic poet Sjón, is the furthest thing from a featherweight. Given their full, atavistic due by cinematographer Jarin Blaschke, the punishing landscapes are a monumental canvas for misery that refuses to say die — although God knows, there is more than enough death to go around. Amleth will have his majestically framed revenge, further tainted by the knowledge of his mother's perfidy and the surrendering of his lover Olga (Taylor-Joy). But his settling of old scores will also have him.