DRAMA; 1hr 40min (French with subtitles)
STARRING: Anamaria Vartolomei, Louise Orry-Diquero, Luàna Bajrami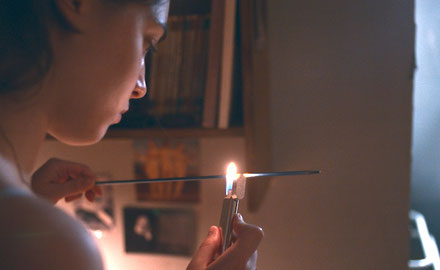 Secret weapon: Vartolomei
Twenty-three-year-old literature student Anne (Vartolomei) is as clever as she is hard to read, her inscrutability only briefly rattled when she learns she is pregnant (to save face, she insists to her doctor that she has never had sex, which she barely has, the pregnancy being the result of a brief liaison with a fellow student). "You're a funny one," the doctor remarks, but there is nothing funny about an unmarried pregnancy in the France of 1963, where an illegal abortion could kill you or send you to prison.
As the weeks tick by, Anne keeps mum with her two besties (Orry-Diquero and Bajrami), for whom pregnancy is a horror they can barely contemplate, her solicitous mother (Sandrine Bonnaire), who has lofty ideals for her, and especially with the mean girls in her dorm, who have branded her a slut while knowing nothing about her. When she does speak out, at seven weeks along with her grades slipping and time an inexorable enemy, the chance she takes only enhances her aloneness.
These are grim pickings, and how, from director Audrey Diwan (Losing It ), whose screenplay, adapted from Annie Ernaux's 2000 autobiographical novel, zeroes in on the chokehold of desperation with an owlish gaze that mirrors Anne's own. "I'd like a child one day," she reasons. "But not instead of a life." That the one should never preclude the other isn't a patriarchal option here, and while Anne's tight-lipped resolve to pursue her career doesn't waver, the sadness she carries is ingrained. Endured in terrible silence and culminated in agony, her moment of truth is a barbaric reminder of a reckoning no woman should have to face.