DRAMA; 1hr 56min (French with subtitles)
STARRING: Daniel Auteuil, Gilles Lellouche, Sara Giraudeau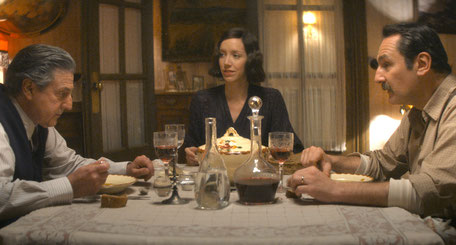 Table manners: from left, Auteuil, Giraudeau and Lellouche
Paris jeweller Joseph Haffmann (Monsieur Everyman Auteuil) lives a quiet, structured life with his wife, Hannah (Anne Coesens), and their three children in a modest apartment above his unimposing shop. All that is doomed to crash and burn, however, with World War II about to hit home and the Haffmanns being Jewish in German-occupied territory.
"Everything will be fine," an unconvincing Joseph assures Hannah before despatching his family to the free zone. To preserve his business before making tracks himself, Joseph stages its sale to his sole employee, François (Lellouche, killing every nuance as a dark horse), the idea being that he can reclaim what is his when the war is over. But with the Nazi presence proliferating and Joseph unable to escape the city, he is forced to bunker down for months as a prisoner in his cellar while François and his subdued wife, Blanche (Giraudeau), occupy what was once his home upstairs. Dicey! And about to jump the shark when François, unable to conceive the child he and Blanche desire, decides on God-knows-what loopy whim that Joseph should do it for him.
Director Fred Cavayé's adaptation of Jean-Philippe Daguerre's 2016 play is internal in every sense, set primarily in the dim womb of a confined space where swirling conflicts are hushed and incremental. The physical scale may be small and the burn calculatedly slow, but the hunger that grows in François for everything he has never had, and the dawning realisation that he will never possess Joseph's talent for design, are their own, catastrophic combat zone. When the third act kicks in, its ferocity hits like a thriller as Joseph and Blanche face their separate reckonings and François, too, is imprisoned by the monster taking root within.