DRAMA; 1hr 39min (English and French with subtitles)
STARRING: Michelle Fairley, Bouli Lanners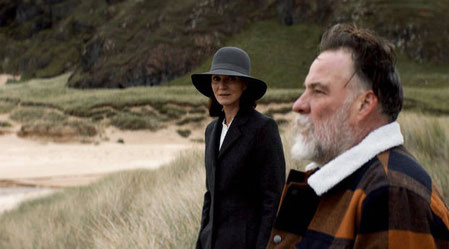 New horizons: Fairley and Lanners
Memory is capricious and after suffering a midlife stroke, hunky Belgian farmhand Phil (film-maker Lanners) has lost tracts of his. As an amnesiac he is a stranger to himself, with no recollection of his friends and neighbours on Scotland's Isle of Lewis. Even his myriad tattoos are a mystery — illustrations from a story in which he is no longer the narrator.
Not being the most demonstrative of men, Phil seems more puzzled than traumatised by his new blank slate. For local realtor Millie (Game of Thrones' Fairley), who becomes his carer, this emotional absence represents a complex opportunity. "We were lovers," she informs him, seizing the proverbial moment.
Can Millie create what she desires? In the beginning it looks as if she can. Such is the force of her yearning and the loneliness it implies, minutely shaded with sadness by Fairley, and so caring is the affair Phil believes they're resuming, that deception as a second chance doesn't seem so wrong-headed. The island is beautiful but desolate; to live there alone is a recipe for an isolation that could easily grow oppressive.
But Millie's falsehood will finally catch up with her. As the fates would have it, Phil is neither alone nor in any condition to be. His past, along with his powers of retention, were never far enough away. Co-directed with Tim Mielants, Lanners's fine-drawn drama of chance and consequence is his first film in English, in which Phil is as equally at home as his native French. Longing, after all, is the world's universal language.